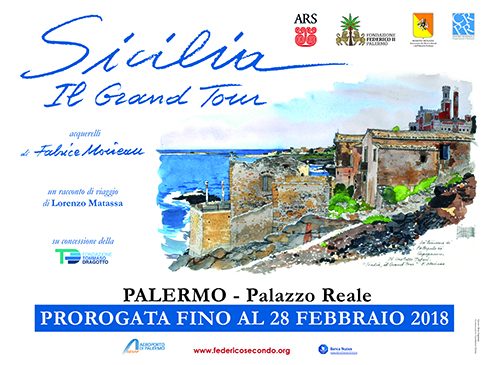 Many well-known travellers have portrayed Sicily to the whole world offering their own gaze over the island.
While travelling around the island, they had to face several difficulties to discover landscapes painted by nature and to reread what antiquity and art had established in monuments of immense value. In their words, Sicily was the site of definitive cognitive and emotional growth.
The Grand Tour was born and Goethe was its greatest prophet.
Nearly two and a half centuries since then, the Island witnesses a new "Grand Tour" entrusted to the brushes and pencils of one of the world's greatest watercolourists, Fabrice Moireau, and to Lorenzo Matassa's travel account.
Nearly four hundred colour works mark a fresh Goethean path which can be appreciated in the Royal Palace exhibition and enjoyed in the book Sicily, the Grand Tour, wanted and realized by the Fondazione Tommaso Dragotto.
The artist travelled in person to the portrayed places, carrying his inseparable backpack which contains his work tools: his palette, colours, white sheets, brushes, the inevitable folding stool.
Captured by the expert hand of master Moireau, the archaeological remains of the Island become watercolours along with the views of some natural reserves, the smaller islands, the many castles and glimpses of UNESCO sites.
A long itinerary in the most secluded parts of Sicily, in the least known places, but not for this reason less fascinating and deserving a journey.