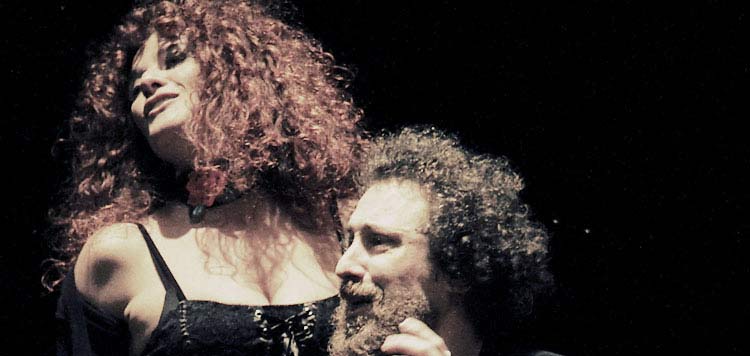 Among the most ancient cults of the city of Palermo, the celebration of Saint Rosalia represents the most evocative and participated. The Sicilian Regional Assembly, the Federico II Foundation and the Kleis Cultural Association bring on stage, in the Maqueda courtyard of the Royal Palace, for two days on Monday 9th and Tuesday 10th of July at 9.00 p.m. the theatrical piece R Patrona, a tribute to the Patron Saint of the city of Palermo.
It will be an extraordinary event, able to excite and welcome the desire for renewal and social redemption, through an ancient ritual, which people wait for duirrining a whole year and which represents an attraction without precedent, for the faithful, the curious and the scholars of ancient traditions.
The show is structured recalling the tradition of blind singers, interpreted by the "cuntastorie" (stryteller) Salvo Piparo and Costanza Licata, who represents the hermit Rosalia. R Patrona is rooted in the 2004 Triumphal Trilogy of Salvo Licata, later reworked by Luigi Maria Burruano, now and then under the direction of Clara Congera.
A sacred and profane story of human feeling between the need for faith and abandonment, for those who entrust their destiny to heaven. The story also tells about the plague of the bad "res publica"; the mismanagement of public assets, harshly proven by the ignorance of that part of leading class which is unprepared and greedy.
The "cunto" (story) of Piparo and the song of Costanza Licata are combined vocal virtuosities accompanied by the special autoharp of Alessandra Salerno, the sick mother represented by Egle Mazzamuto, and the ferocious Cavalà intepreted by Alessandro Napolitano, and still the Argento Family, with Nicola and Dario, "pupari" (puppet masters) for over a century (since 1893), with a reproduction of the Pupi Opera Theater inside the scene.
The music is performed by Michele Piccione, Ciccio Piras, Gioacchino Comparetto, Raffaele Pullara, Giuseppe Giordano and Luisa Cerami. The choreography is signed by Virginia Gambino, who dedicates a moment of dance to the victims of the sea with a contemporary performance with the dance body composed by the dancers: Elena Cuccio, Silvia Schifano, Martina Bartolotta, Eleonora Traina, Giulia Melodia, Elisa Lo ox , Sofia Maggio, Jessica Militello, Maria Celeste Sammarco, Fabiana Randazzo, Martina Trapolino, Giulia Manzo and Viviana Buzzotta. The show involves more than thirty artists to represent all the neighborhoods and paintings of the "Cunto" (story).
Courtesy translation Elettra La Duca